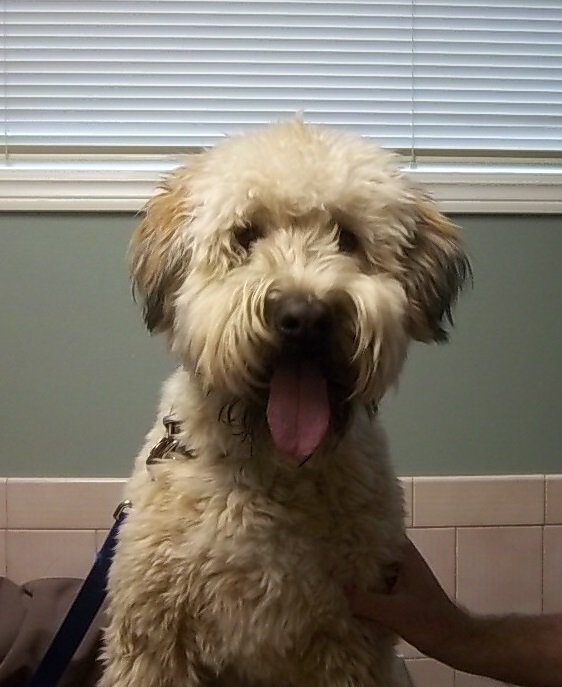 "Seamus" is a usually very energetic, happy 1 year old soft coated wheaten terrier.  He presented to Welland Animal Hospital several weeks ago with a history of lethargy, poor appetite and persistent vomiting.  He was very quiet on presentation, mildly dehydrated, and had a tense and uncomfortable abdomen on palpation.  He had been noted to have chewed some carpet a few days previously.  He was admitted to the hospital for abdominal radiographs which revealed a large multi-focal density in the stomach as well as the small intestine.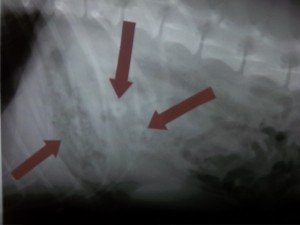 Since Seamus had not eaten in the last 24 hours and had been profusely vomiting we would expect his stomach to be empty.  However, his  stomach was full  suggesting  that a foreign body (likely carpet) was present and was lodged in the stomach and potentially the small intestine. A linear foreign body arises when linear material (carpet strands, rope, thread, ribbon, plastic, cloth, sacks, cassette tapes..) is anchored in one spot while the intestine attempts to move the material towards the anus with normal peristaltic muscular contractions.  Because the material is stuck and immovable (usually in pylorus of stomach-narrow exit to small intestine, or under the tongue in cats with string) the constant movement of the intestine will result in the bunching of the intestine and a partial or complete intestinal obstruction.  Continued peristalsis will cause the foreign material to become taut and eventually to cut into the intestine at the mesenteric border causing leakage at multiple sites and a life threatening infection (peritonitis).  Multiple perforations of bowel are associated with high levels of mortality.
An exploratory abdominal surgery was recommended and Seamus was admitted to the hospital immediately, started on IV fluids, antibiotics and stomach protectants.  A routine ventral abdominal exploratory revealed a large distended stomach and a linear foreign body extending from the stomach to the proximal -mid jejunum (small intestine). The foreign material carpet was removed through an incision in the stomach (gastrotomy)- see below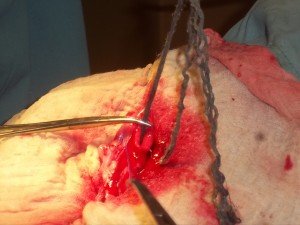 and two incisions into the small intestine (enterotomies)- see above.  The intestine all appeared viable with no leakage or vascular compromise.  The pancreas was mildly red and swollen. All surgical sites were closed routinely and the abdomen flushed with saline ( below see one of the sutured enterotomy sites).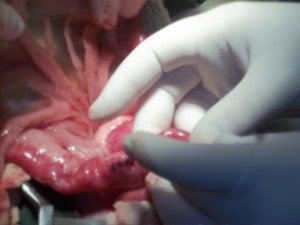 Routine closure of the adominal wall was performed and Seamus's recovery was uneventful. The carpet was collected in a jar so the owner's could visualize without the associated smell.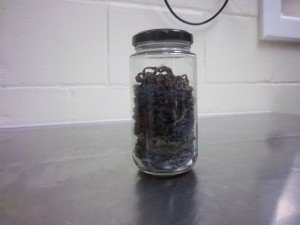 Seamus was started on some antiemetics ( to control vomiting) and medication to encourage intestinal motility, as well as continued supportive care with IV fluids and antibiotics.  His appetite gradually returned, the vomiting stopped and his vibrant personality gradually returned.  He was discharged to his caring owners who did an excellent job of nursing him along for the next few days as his appetite and bowel movements normalized.  We are happy to report that Seamus has been back for his final recheck and is doing great.  He gave us all an outstanding greeting and enjoyed a few well earned treats.